MEMBERS' GUEST PRICES 2023
£20

MEMBERS' BUGGY PRICES 2023
| | Weekday | Weekend | 36 Holes |
| --- | --- | --- | --- |
| Buggy | £15 | £20 | + £10 |
| Buggy with medical certificate | £10 | £12 | |
| Buggy (70 year old and older) | £10 | £12 | |
GOLF BUGGIES
Following an independent Risk Assessment of the Golf Course regarding the use of ride-on buggies all members are asked to familiarise themselves with the guidelines. Members will be issued with the guidelines safety card when they first use a buggy – either hire or their own, and will be asked to retain it for future reference. The safety cards will also now be issued to visitors each time they hire a buggy or bring their own ride-on buggy. To view and/or download the guide. To view and/or download the guidelines, click here: Golf Cart Safety Booklet.
WHS
WHS Questions and Returning Scores in a Competition: WHS FAQs.
More detailed members information can be accessed on the members website News & Information.
READY GOLF
The Match Sub Committee would like to take this opportunity to remind all golfers regardless of age, sex or ability that they should play "READY GOLF" at all times. Great improvements have been made over recent times in keeping the average time in Medals and Majors to around 3 hours 30-40 minutes, and it is important that the pace of play does not start to increase towards 4 hours again. Please therefore read and follow the 'Ready Golf' tips below, as these can help improve our pace of play around the course: Ready Golf Notice.
PITCH MARKS
Please ensure that you repair any pitch marks on the greens caused by your ball, or any other ball landing on the green. This area has proved problematic over recent seasons and something all members need to pay special attention too. This greatly helps the green staff improving the putting surface you play on. The greens staff and greens committee hope that all the hard work put in over the winter will provide members with a course in great condition for the coming season
SCOTTISH GOLF APP
The 'Scottish Golf' app is a very useful app it allows you to:
Enter a General Play score
Lookup every Scottish golf course and see your own course handicap for each tee
See your detailed WHS handicap record
See/print your handicap certificate
Competition information
Scottish Golf news
It can be downloaded from:
INTELLIGENT GOLF MEMBERS APP
Members are recommended to download the 'igMember' app. This allows you to:
See your handicap record
Enter competition scores
See and book your tee times
See and topup your Clubhouse and Pro Shop balances
Read the latest News Items
See the current Course Status
It can be downloaded from:
Once downloaded, link it to your Intelligent Golf account by logging on to the members area and pairing it from 'My Golf | Preferences'.
STAY IN TOUCH WITH THE CLUB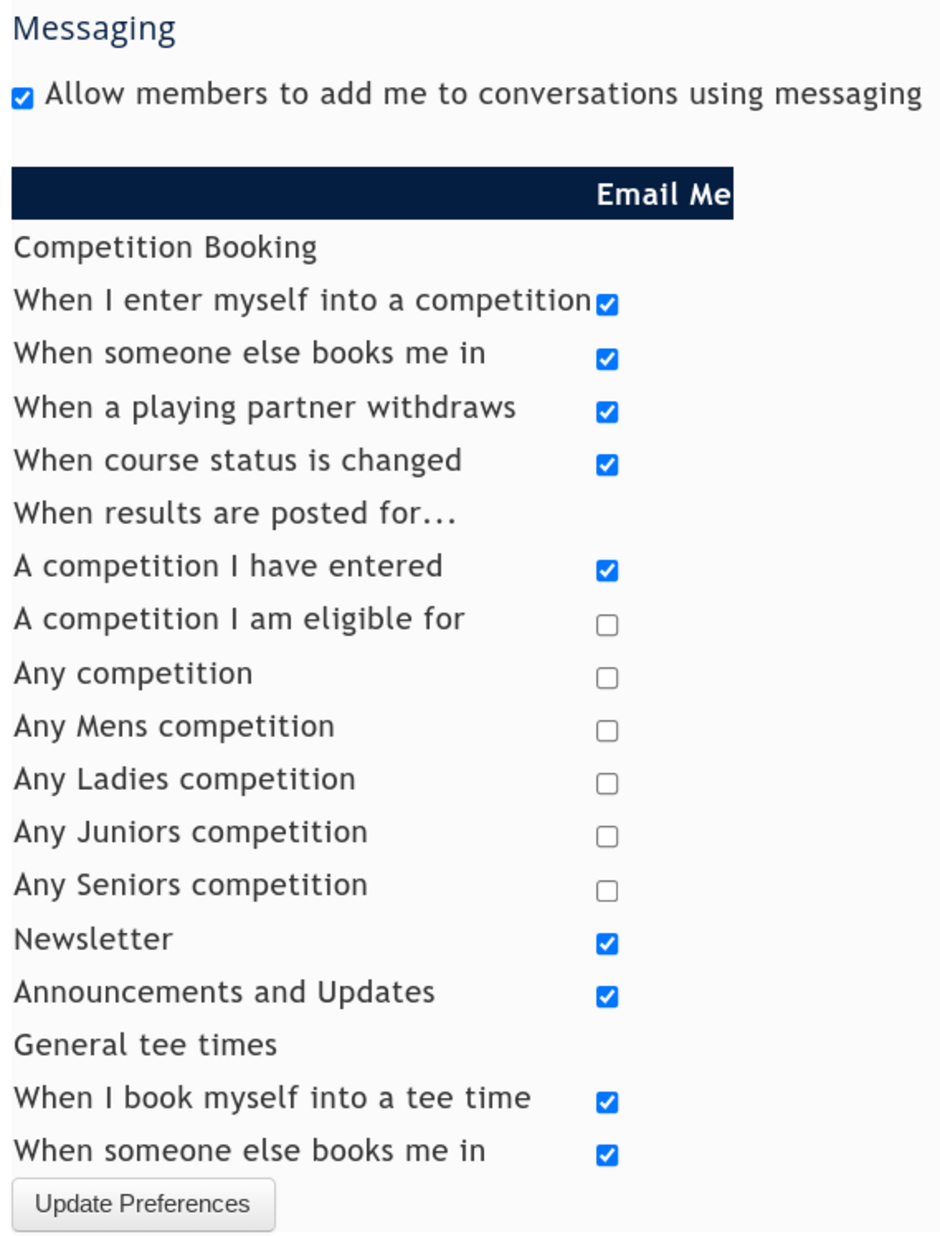 You can keep in touch with all the latest news about and from the golf club wherever you are by signing up to our club emails. All you need to do is login to the members area and set your email preferences from 'My Golf | Preferences' by adding your contact email and setting your 'Messaging' preferences. We'd recommend selecting 'Newsletter', 'Announcement and Updates' and 'Course Status' as a minimum.
The emails will include important news, feature articles, information about our social events and our golf competitions etc. Don't miss out.